There are personalities around us who astonish us through their indomitable qualities. Their compassion astonishes us and their profound interest acts as an inspiration. One such personality is Ms Merin Joseph. Technological developments do not mandate knowledge about everyone and everything. For those who needs an introduction, she is one of the dashing IPS officers who is "gorgeous' by many.
Ms Merin Joseph is the youngest of cadres to have completed IPS Officer training in Kerala. Merin became popular even when she was undergoing police training. Merlin did not get carried away by the fanfare through networking sites. She has leveraged all the compliments she received to execute her duties in a perfect manner.
A post graduate in History from St Joseph's College in New Delhi, Merin says clearing the IPS exams was easy. Luckily for Merin, her first posting was in Kerala which happened to be her home town. Married to Dr Chris Abraham, Merin is a different kind of a Police officer. She is not the traditional lady police officer kind we have been witnessing for many decades now. People who meet her for the first time will have a hard time to believe that she is a Police officer in reality.
Merin makes people feel awestruck through her jubilant nature and friendly approach. The permanent smile that resides in her face makes her a special person. Very few know that Merin is an ardent lover of English language. She is a voracious reader who considers reading as her best avocation.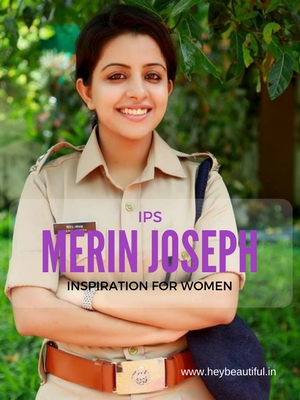 Merin wanted to become an IAS officer right from her childhood for the dynamism it offered. She says becoming an IPS, though was her second choice, was a dream come true. She led the Indian delegates during the Y20 Summit.
Merin thinks that IPS Training is something that strengthens people mentally. She has enjoyed every bit of the police training which starts around 4.45 every morning. Every day, the cadres undergo training which includes walking for 4 to 5 kilometers. Swimming and learning to handle different kinds of weapons form a part of the training. Trainees learn horse riding also. They learn to survive in dense jungles with limited food supplies. The training cadres march through uneven paths for 40 kilometers every day. No wonder The Hindu termed Merin Joseph as the 'Pretty tough cop" by The Hindu. Merin is a definitely a combination of beauty and beast.
Merin says that with all said and done Police Department still remains a male dominant arena. She has adopted cool-headedness as her weapon to handle her professional life. This helps her handle her job in an elegant manner where she works amidst men all the time. Merin is one of the first few women cadets to venture into public service with a lot of positivity. We expect more 'Merins' to enter into key Department. This will help rectify loop holes in the current systems. This will also help to make things better for the future generations to come.