When MLTR sings "Paint my love… It's a picture of thousand sunsets, a freedom of thousand doves…' or when our own Gulzar pens down "Tujhse naraaz nahi zindagi, hairan hun…", I wonder how did they manage to weave those words so magically, meaningfully & beautifully. No doubt some are really blessed with something unique.
At the same time, when I observe common people around me, still I find everyone has something or the other, a very special art hidden in them. Some cook heavenly, others paint miraculously, while some people talk so beautifully, can persuade anybody. And the list goes on.
An art is hidden within everybody which makes one happy & feel satisfied. I think everybody needs to know that happiness is their life's main purpose & it's present very much within them, sown deep inside. The need is just to bring that out, acknowledge it & then shine. Not for others, but for your own wellbeing. "ME" should be at the cusp of relationships. If I am not happy, I will not be able to make others happy, for sure.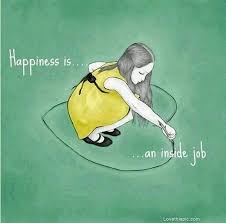 Some are definitely lucky or fortunate to cash in on their likings or on their flair for particular art. But happiness can never be & should never be gauged on that parameter. We do get to hear that "those who say money can't buy everything, don't know where to shop", but we all must have experienced somewhere in our lives, the morning dew on grass shining like diamonds, the beauty of that red rose with dark green leaves, the smell of home cooked food which imparts infinite pleasure, the ecstasy of spotting two rainbows in one go. All of this cannot be purchased but can just be felt. As they say, the best things in this world are free.
So just know yourself. Give importance to yourself, be happy & shine like a star which is actually a sun of its own solar system. As Rumi says, "Who could be so lucky? Who comes to a lake for water & sees the reflection of moon". So just go & fetch yourself some water.
Written by Manjari Panchal